How to build a new dock or pier
Daydreaming about a new dock or pier?
Here are the steps to successful waterfront home improvement.
Adding a dock to your home can provide generations of enjoyment for your family and increase, in some cases even double, the value of your home. As the Wall Street Journal recently reported, "In vacation spots from Buzzards Bay in Massachusetts to Puget Sound in Washington, home buyers are increasingly paying big premiums — sometimes as much as twice the cost of comparable properties — for waterfront homes that come with their own docks".

What are the steps to building a dock or pier? As with all home improvement projects, the process follows the same basic outline: budgeting, building your team, planning and design, permitting and construction. As a waterfront construction project, building a dock or pier necessitates special considerations and expertise.
Budgeting: Defining the scope of your waterfront investment requires insight into how it will hold up over time.
Selecting a contractor/engineer: How familiar are they with using composites? Do they support your vision? Have they worked on similar projects? You are the customer — design and build what you want not what someone is telling you, you want.
Planning and design: Composites' unique capabilities can enable innovative designs like the monopile pier. Any engineer can utilize these materials to their full potential.
Permitting: Navigating the legalities of licensing and permits can be tricky. An engineer familiar with the permitting process will help eliminate complexity.
Building: When the whole team works together, your project gets done faster. Contractors experienced in installing pilings will have no issues installing composite pilings as they are installed the same way as wood, steel, or concrete. .
Ask First, Build Later
Asking the right questions at the start will help ensure your finished project aligns with your expectations. "The biggest consideration is pinning down decisions and selecting materials and finishings before the job begins," explains Tom Miller, a Portland, Ore., home remodeler and president of the National Association of the Remodeling Industry. "That gets you to a reliable budget," What features would you like included? Mooring and lifting features or running electrical add value to your dock but these added capabilities come with a higher cost. What materials will you use for your dock? Make sure to do your research. While some materials may cost less up front, higher quality alternatives may save money in the long run. Composite materials like Pearson Pilings, for example can last for generations, saving money on repairs and replacement.

Building the Right Team
Perched astride the delicate landscape where water meets land, docks and piers can pose unique building and permitting challenges. While requirements vary by state a knowledgeable team, whether you are working with a contractor, engineer or architect, can help you navigate local requirements. But how can you find the right professionals to help build your dream? Since even the common technique of finding referrals can fall short keep in mind the parameters of your project and look for professionals familiar with waterfront construction.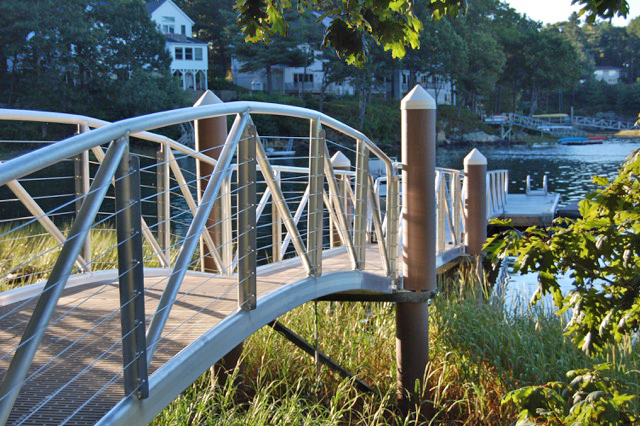 Measure Twice…
The planning and design phase allows the project to progress from hypothetical to precise. Given your specific goals for your new dock or pier, your team can create the best design to meet your needs and uphold local statutes. Engineers, who design structures with an emphasis on safety, functionality, and longevity will reward you with a sustainable design. When the time comes to start building, having a contractor to coordinate between the vendors and engineers can facilitate the process. Builders familiar with your materials can also save time and reduce costs.

Considering building a dock or pier that will last for generations? Find out how Pearson Pilings can help support your dream.