Sustainability
Protect your investment and the environment
Due to an increased focus on environmentally sustainable building practices and projects, more homeowners and businesses strive to choose environmentally friendly waterfront building materials. For anyone looking for environmentally safe pilings, Pearson Fiberglass Composite Pilings offer an environmentally safe alternative to traditional pilings. The National Park Service recommends against using treated wood in waterfront sites and suggests builders "Consider alternatives such as … plastic composite lumber when appropriate." Unlike concrete which can crumble, steel which can rust and treated wood which can leach chemicals into the water or soil, Pearson Composite Fiberglass Pilings are safely inert, unable to be broken down by water or soil regardless of salinity.
Safer now, safer for future generations
Using environmentally safe pilings from Pearson Pilings reduces environmental impact both during and after construction. The lightweight pilings can be transported more efficiently than heavy wood or concrete pilings, reducing evasive access to delicate habitats. Since Pearson's environmentally safe pilings last for generations, a contractor and barge will only enter the job site once, not three to five times over the project's lifetime to replace depreciated pilings. Less invasive transport means less environmental impact. The exclusive Pearson monoplile design even uses less material than traditional two-pile piers and is less invasive on the eco-system because it requires half the penetrations into the earth.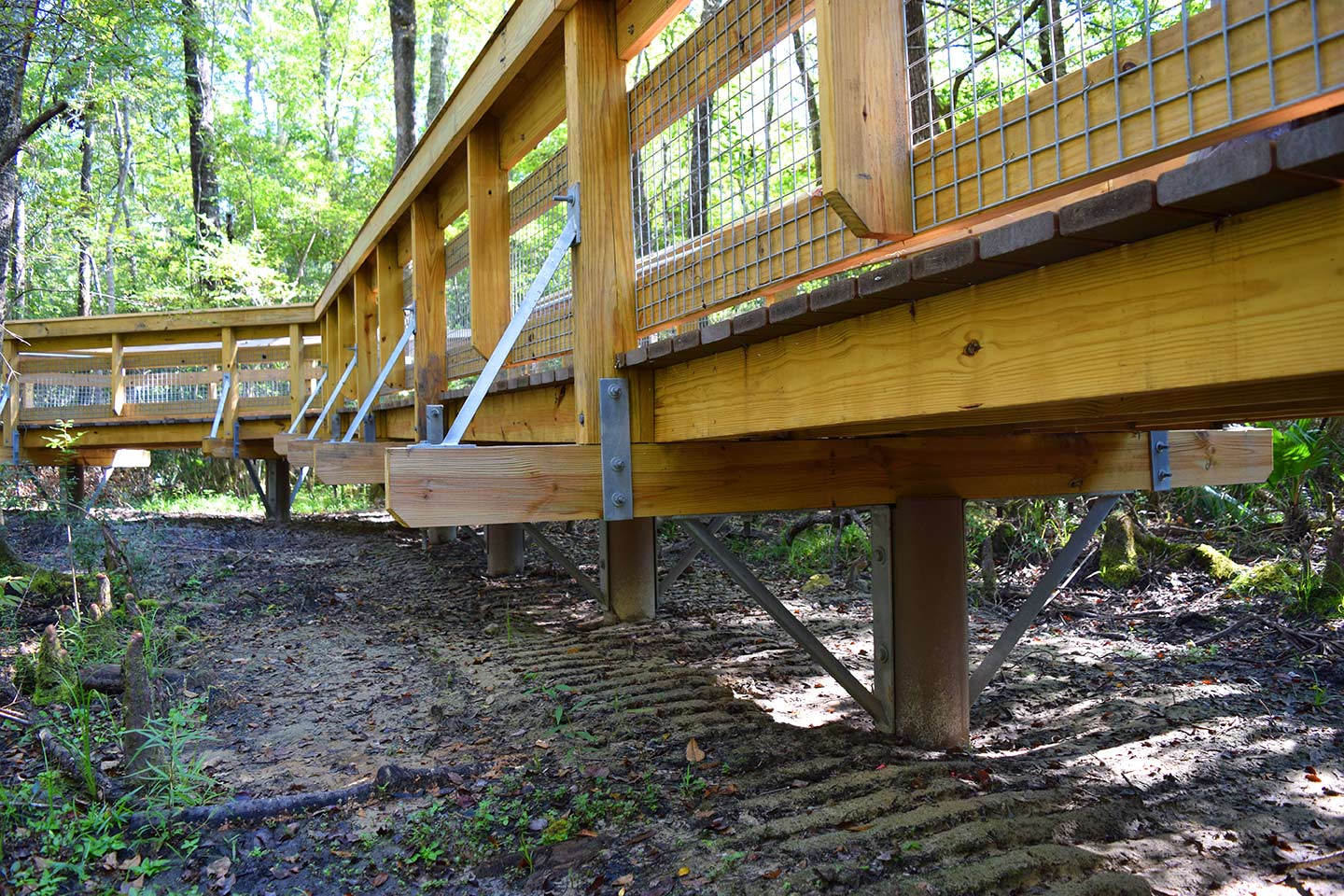 Willard Spring Florida Nature Walk
In the LEED
Pearson Pilings manufactures an environmentally friendly, sustainable, structural fiberglass piling used in many different areas of construction including marinas, docks, boat houses, boat lifts, artificial reefs, reef markers, building foundations, and telephone poles. We fully support the Leadership in Energy and Environmental Design (LEED) Green Building Rating System and encourage our customers to design projects using sustainable green building and development practices. Choosing our environmentally safe pilings are a great first step.